White Supremacist Fatally Stabs 2 Men Defending Teenage Girls From Racist Attack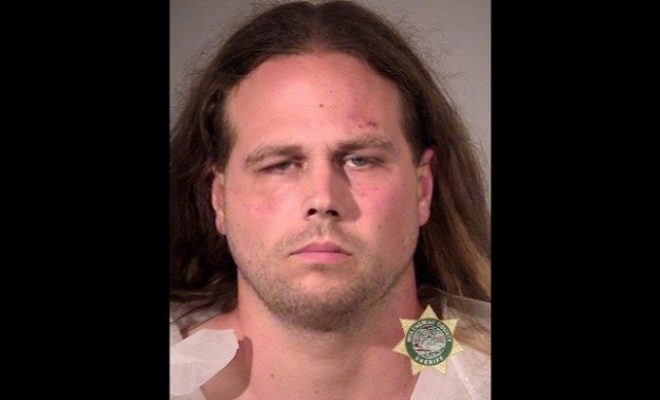 Portland, OR— White Supremacist, Jeremy Joseph Christian stabbed two men to death and critically injured a third last Friday after shouting racial slurs at two teenage girls on a MAX light rail train.   He boarded the crowded train around 4:30 pm and began a hateful rant against many different groups according to a witness. He targeted two teenage girls sitting down one of whom was wearing a Hijab or headscarf worn by traditional Muslims. Christian screamed to the girls that they "should go back to Saudi Arabia," to "get out of my country," and that they should "kill themselves." Three men unrelated to each other or the girls then decided to step in to deescalate the situation. The yelling had become so disruptive that the train conductor announced over the loudspeaker that "whoever is creating the disturbance needs to exit the train immediately."
Christian, who had been convicted of kidnapping and robbery in 2002 and had charges of felony possession of a firearm and theft in 2010, then proceeded to stab the men who confronted him. Ricky John Best a 53-year-old father of four died on the scene. 23-year-old Taliesin Myrddin Namkai-Meche, a recent economics graduate died in the hospital. The third man, 21-year-old Micah David-Cole Fletcher survived after the knife cut his neck but narrowly missed his jugular vein.
Police arrested Christian after he attempted to run away into a local neighborhood. He is being charged with 2 counts of aggravated murder, 1 count of attempted murder, and three additional misdemeanors.
Christian is a self-described white nationalist and a known right-wing extremist. A month prior to the stabbing he spoke at a "March for Free Speech" carrying a baseball bat and giving a Nazi salute.
The Portland community has since mourned the deaths of the men by holding a candlelight vigil and raising over a million dollars for their families.