What is the business side of animal rights?
Animal-welfare advocates are courting a new Wall Street ally as they take on big U.S. meatpackers: proxy advisory firms.
Groups such as the Humane Society of the U.S. for years have sought to build support among large companies' shareholders to push for changes in animal treatment, often finding little traction. Now, some pitches are being tailored to win backing from increasingly influential firms that advise investors on how to vote their shares, including Institutional Shareholder Services Inc. and Glass, Lewis & Co.
The Humane Society earlier this month landed the endorsements of ISS and Glass Lewis for its shareholder proposal that Hormel Foods Corp. , the maker of Spam, detail the financial risks that could arise from the meatpacker's reliance on hog farmers who house pregnant sows in enclosures called gestation crates.
Proxy advisers are more receptive to hearing about the issue with meatpackers such as Hormel and Tyson Foods Inc. partly because restaurants and retailers—the meatpackers' big customers—have been tightening their own animal-welfare policies in response to consumer pressure, hence a risk of lost business.
Animal-rights proponents say the gestation stalls, typically about two feet wide, prevent sows from turning around, leaving only enough room to stand up and lie down.
As animal-rights advocates focus on the financial-risk angle instead of merely animal treatment, they "are getting a bit more savvy with respect to what shareholders are wanting to support," said Courteney Keatinge, senior environmental, social and governance analyst at Glass Lewis.
Hormel has recommended that shareholders vote against the proposal at its annual meeting Tuesday, saying it already has asked its hog suppliers to consider group housing for sows when new facilities are built. The Austin, Minn., company previously announced plans to phase out gestation crates at its company-operated hog farms, though these supply only about 6% of its pork needs, according to regulatory filings.
Read more source: http://www.wsj.com/articles/animal-rights-advocates-get-proxy-advisory-firms-onboard-1422303269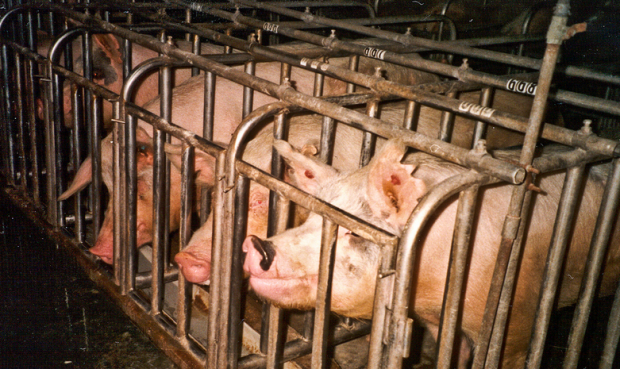 Comments
comments