A Week's Staycation in Houston – Free Daily Summer Activities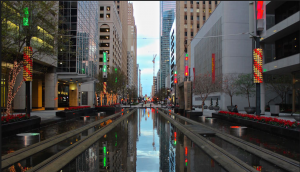 Summer is here, along with the nagging feeling that you are obligated to go on some sort of getaway on the notion you have wasted time if you don't. For those of us like me, strapped for time, cash, or energy to reserve plane tickets/rental car, a real vacation can be difficult to plan or even go on at all. Lucky for us Houstonians, we live in the 4th largest city in the country and have access to a burgeoning metropolis comprised of literally, hundreds of activities to go on that are a relatively short drive away. If you're still skeptical about finding the time to plan activities in our vast melting pot of a city, then never you fear, because I already planned a whole week for you.
Monday
A humdrum day for most individuals is turned into a colorful waterfall of opportunity with a journey through Midtown.
Morning: Before the sun is highest in the sky (gotta watch out for those pesky UV rays), be sure to take a leisurely stroll through the Houston Arboretum and Nature Center (after breakfast of course).
Noon: Reward yourself after your nature hike at Becks Prime bar and restaurant, the original location in a Houston chain of eateries with tried-and-true dishes like mesquite-grilled hamburgers, baked potatoes, and bowls of chili.
Afternoon: Tap into your inner child and check out the Houston Fire Museum. Satisfy the kid in you and learn about firefighting history and experience what real firefighters go through firsthand.
Evening: Spend your dinnertime unwinding after your first adventure at the delicious, jazzed-up American restaurant, Gravitas. If you're lucky, you'll even catch some live music with your meal.
Tuesday
Make sure your staycation falls on the first Tuesday of the month because today's a FREE ZOO DAY
Morning/Noon/Afternoon: As a parent, or really anybody at any age knows that a trip to the zoo eats up most of the day (which is not a bad thing!) As for lunch, there's plenty of restaurants on site with yummy eats and drinks for you and your zoo buddies.
Evening: At this point, you'll be starving and Bodegas Taco Shop will be just the place to satisfy your hunger. Just under a mile away from the zoo, you'll not only enjoy the food, but the decor has been known to please the eye.
Wednesday
HUMP DAY!! Spend your time and money on one of life's many pleasures, SHOPPING!
Morning: Go traditional for breakfast at Adair Kitchen to shamelessly enjoy some of your favorite diner staples.
Afternoon/Evening: TREAT YO' SELF at the Houston Galleria. Often visited by celebs passing through town, the city's most lavish mall is home to over 375 stores and you're sure to find at least one thing on your wish list.
Evening: Take a Mediterranean trip for dinnertime to Yia Yia Mary's Greek Kitchen for upscale interpretations of traditional Greek food.
Thursday
While Thursday's aren't usually the peak of the week, this one will be on your journey through Houston's Museum District. (Because HEY, Thursdays are free at these museums).
Morning: Black Hole Coffee House will wake you up in the most hipster way possible with its coffee, sandwiches and tea.
Afternoon: Release your inner art critic at the Museum of Fine Arts, Houston. Walk through the peaceful hallways Ferris Bueller-style and contemplate the meaning of hundreds of traditional and contemporary art pieces.
Afternoon/Evening: Embrace regression at the Children's Museum of Houston.
Evening: Dive into a (possibly) new adventure at Dak & Bop Korean restaurant near the museum district. The interior is super artsy and the food has just the right amount of Western fusion to satisfy even the pickiest of palettes.
Friday
More like, FriYAY  because the fun is just beginning as your weekend starts with visits to a couple of more well-known Houston stops.
Morning: Southern cooking at its finest is represented at The Breakfast Klub. Breakfast is peak time for this locally famous restaurant (for obvious reasons) and you should probably get there earlier to find good parking.
Afternoon: Wear your tennis shoes today for another outdoor adventure at Discovery Green. Release your wiggles at the John P. McGovern Playground, refresh yourself by playing in the Gateway Fountain, relax in the shade at the Hess Patio Deck or just enjoy walking through 12 acres of lush gardens and other pretty scenery.
Evening: Just across Discovery Green lies a sweet spot with a variety of menu items. The Lake House has a yummy and affordable dishes that are sure to satisfy your hunger as well as your wallet.
Saturday
BEACH DAY!!! Pack your towels and sunscreen because your headed to Galveston!
Morning/Afternoon: Pack a picnic cooler and spend your day building sandcastles, taking a dip in the water, or just catching some zzzs under an umbrella at the Houston area's frequented beach.
Afternoon/Evening: Tend to your sunburn then head to The Strand for some shopping for souvenirs or even some candy at Rocky Mountain Chocolate Factory.
Evening: End your day at Galveston's The Spot. Just a short walk across the street from the beach, this local restaurant has got the best burgers you've ever eaten (including a tasty black bean burger for my vegan folks).
Sunday
End your staycation with some appreciation for your home city and how it came to be at the San Jacinto Monument.
Morning/Afternoon: A tribute to Texas history and all of its heroes, The San Jacinto Museum of History will educate you and perhaps even excite you with facts and figures about our home state. Later on, be sure to check out Battleship Texas, the last remaining battleship to participate in both World Wars.
Evening: RELAX! You've had a long and adventurous week!
Author:
Gabriela Garcia
Comments
comments