WATCH: Video of Cop Body Slamming 22 Year Old Woman to the Ground Head First in 'Standard Arrest Technique'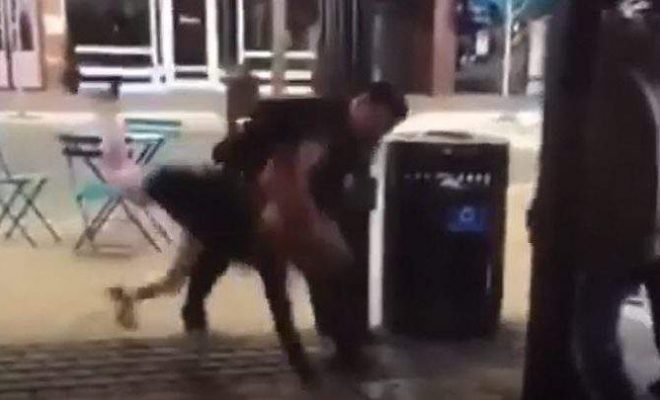 Seems excessive #ColoradoState pic.twitter.com/rtfzgBs4Yk

— Barstool Sports (@barstoolsports) April 8, 2017
Cell phone video captured over the weekend shows Colorado police officer, Randall Klamser grabbing a woman outside of a bar and using the full force of his weight, to slam her head on a concrete sidewalk.  The sound her head makes upon hitting the concrete is clearly audible.  The video shows her in high heels and a dress pulling away from Klamser, not attacking him.  She can be heard asking "what did I do" right before being thrown to the ground.
The woman, 22-year-old college student Michaella Surat, was arrested and booked on a third degree assault charge for assaulting the officer. She is also charged with obstructing a police officer.
Police were on the scene to break up a fight between the woman's boyfriend and another man. She was intoxicated, typical for college students at a bar. One officer made the claim that she used her shoulder to hit a bouncer earlier as well as another officer.
Police chief, John Hutto said there would be an investigation and internal review of the incident. In addition, the body cameras the officers were wearing would be released after the investigation was over. He also added that the cell phone video does not show "the context or content of the full event."
Surat's family attorney says that it is "disturbing at best" that these behaviors are considered standard procedure.
Comments
comments