Today Show Host, Matt Lauer Fired Over Sexual Misconduct Allegations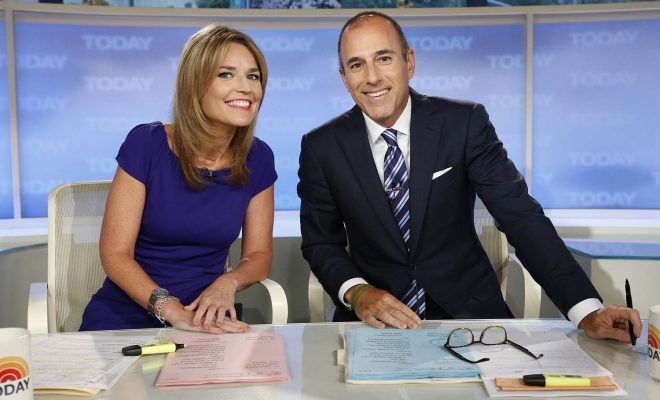 This morning the news broke that longtime Today Show anchor, Matt Lauer was fired over allegations of sexual harassment towards a colleague. The president of NBC, Andrew Lack stated that he received a complaint detailing the account of the accuser yesterday evening and made the decision to terminate Matt Lauer immediately. "While it is the first complaint about his behavior in the over 20 years he's been at NBC News, we were also presented with reason to believe this may not have been an isolated incident," Mr. Lack said. The woman who made the accusations told the New York Times that she is not yet ready to go public with her story.
Lauer had been the co-host of the top-rated Today show since 1997. Savannah Guthrie who hosted with him seemed to hold back tears as she said, "How do you reconcile your love for someone with the revelation that they have behaved badly?" and that she was "heartbroken for the brave colleague who came forward to tell her story." Hoda Kotb filled in for Lauer's spot this morning.
Actress, Rose McGowen who accused now disgraced movie mogul, Harvey Weinstein of rape tweeted, "Don't let the door hit you on the way out, Matt Lauer."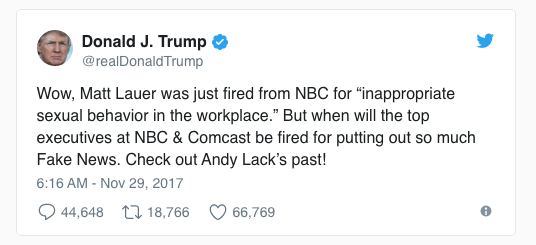 President Donald Trump also spoke out on Twitter stating, "Wow, Matt Lauer was just fired from NBC for "inappropriate sexual behavior in the workplace." But when will the top executives at NBC & Comcast be fired for putting out so much Fake News. Check out Andy Lack's past!" Numerous women have also accused Trump of sexual harassment and misconduct as well. Trump has bragged on the Howard Stern radio show about entering dressing areas during beauty pageants by saying, "You know they're standing there with no clothes. Is everybody OK? And you see these incredible looking women. And so I sort of get away with things like that." He has also recently said, "Women are very special. I think it's a very special time, a lot of things are coming out and I think that's good for our society and I think it's very, very good for women and I'm very happy a lot of these things are coming out. I'm very happy it's being exposed."