Synthetic Dog Will Revolutionize Veterinary Training & Save Dog's Lives #SynDaver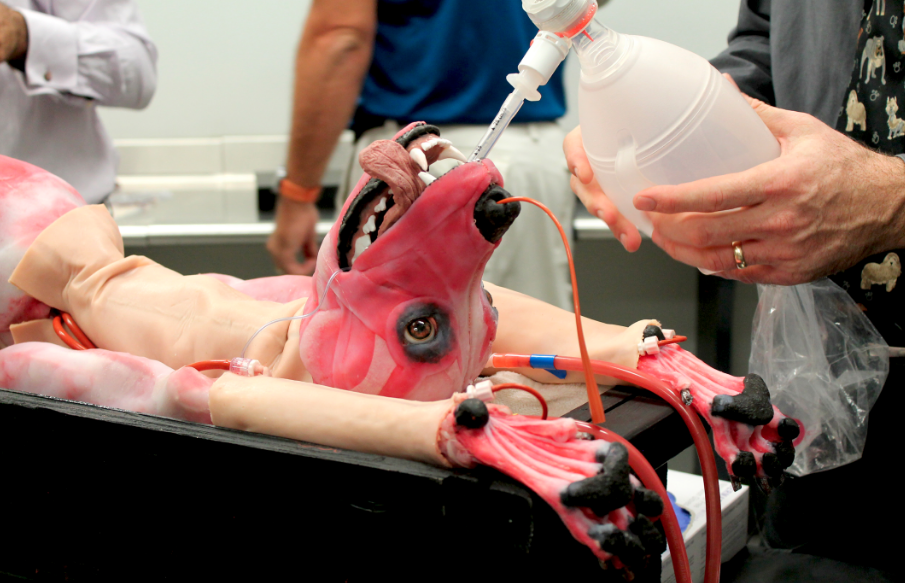 Eliminating the need for cadavers.
This synthetic dog may look like something out of a horror movie, but it is an extremely useful tool for veterinary students.
Unfortunately, not that long ago, veterinarians in training would sometimes have to practice on live dogs and cats from shelters that were anaesthetised for the procedure and euthanized afterwards. This practice is called terminal surgery, and while most academic institutions have phased it out over the last 10 years, many are now looking for a viable alternative to give students the hands-on experience they need that's more realistic than a cadaver.
 Enter SynDaver Labs, a Tampa-based biotechnology company. SynDaver is the world's leading manufacturer of synthetic humans, and in an effort to solve the outdated and controversial issue surrounding live animal testing, the company recently unveiled its new skinless breed of dog — the SynDaver Synthetic Canine.
The SynDaver Synthetic Canine is not only a skinless dog, but it's also an extremely detailed surgical trainer that breathes, bleeds, and dies. It will provide veterinary students with an anatomically accurate and realistic "dog" to practice procedures, and if the students make a mistake, they have to figure out how to save the dog before their fake patient dies.
Comments
comments