South Carolina Senate approves bill to remove Confederate flag, proposal moves to House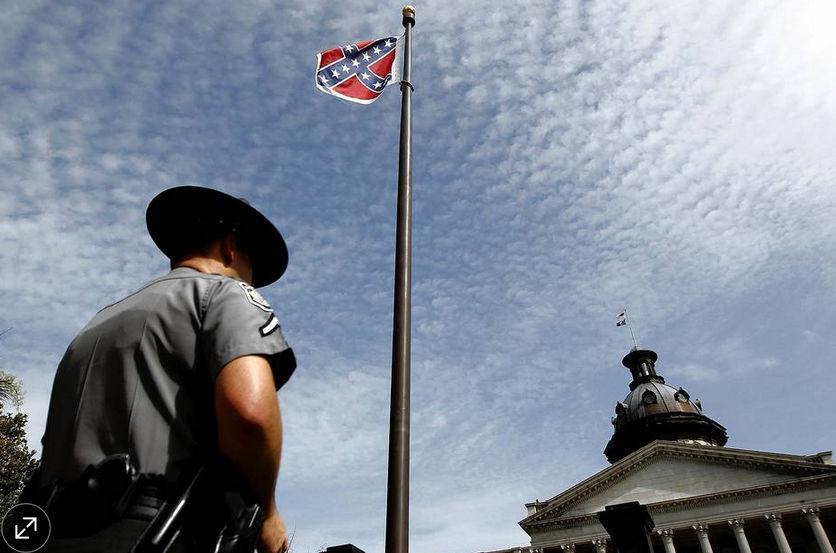 The South Carolina Senate on Tuesday cast a final vote on a bill that would remove the Confederate flag from the statehouse grounds.
After clearing this first major hurdle, the bill will now go to the House for consideration. On Monday, the Senate voted 37-3 to approve the measure on a preliminary "second reading" vote, which was well above the two-thirds majority that was required. Tuesday's final vote was 36-3, with Republican Sens. Lee Bright, Danny Verdin, and Harvey Peeler voting against it for the second time.
The legislature is poised to completely remove the flag from the Statehouse grounds for the first time since it was placed on the dome in 1962, in the midst of the Civil Rights Movement. In 2000, after months of protest forced a compromise, the flag was moved to a flagpole in front of the statehouse.
In the House, the two-thirds majority is expected to be more difficult to achieve. The speaker, Rep. Jay Lucas, a Republican, has not said how he will vote.
According to the Associated Press, Republicans in the House met privately on Monday but struggled to determine how they will proceed. There are 78 Republicans and 46 Democrats in that chamber.
After nine people were gunned down in a historic African American church in Charleston, a debate on the issue resumed. The man charged in the killing is an avowed white supremacist who was seen in pictures carrying the flag, and was apprehended by police in a car bearing Confederate flag license plates.
Among the dead was the Rev. Clementa Pinckney, a state senator. His wife Jennifer Pinckney was in the Senate chamber for the vote Tuesday.
"The alleged killer of the Charleston nine used that flag as a symbol of hatred and bigotry and racism," said Democratic Sen. Joel Lourie on Monday. "Let today be the beginning of a story about a new South Carolina."
"A story of how we removed a symbol that helped heal a nation and a state in their mourning," he added.
After the shooting, South Carolina Gov. Nikki Haley, a Republican, called on the legislature to take up the issue of removing the flag as soon as possible.
On Monday, she praised the Senate for its action and called on members of the House to follow suit.
"The South Carolina Senate today rose to this historic occasion, with a large majority of members from both parties coming together in the spirit of unity and healing that is binding our state back together and moving us forward in the right direction," Haley said. "I applaud the Senate's decisive action, look forward to the Senate giving the bill third reading in the morning, and ask that the House act swiftly and follow the Senate's lead."
As Charleston has buried its dead, the flag flew outside the statehouse, including on the day that Pinckney lay in repose.
At one point, an activist, Bree Newsome, climbed the 30-foot flag pole and cut down the Confederate flag. She was arrested and the flag was replaced shortly afterward.
Source: http://www.washingtonpost.com/news/post-nation/wp/2015/07/07/south-carolina-senate-approves-bill-to-remove-confederate-flag-proposal-moves-to-house/