Save the Bees! Crucially Important Bumblebee Pollinator Placed on Endangered Species List Making History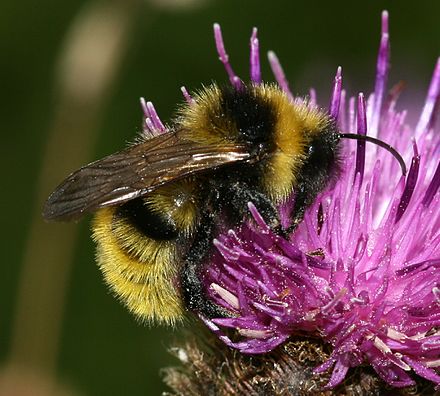 For the first time in history, a bee has been placed on the endangered species list in the continental United States. The Rusty Patched Bumblebee (Bombus affinis) was once a thriving species in the eastern and upper Midwest across 28 states as well as the Ontario region of Canada. It pollinates crops for humans as well as farm animals. Apples, blueberries, plums, tomatoes, alfalfa, cranberries, and onions are among the nearly 65 known species of plants produced by the bumblebee. Bees alone contribute at least 15 billion dollars to the American agriculture industry every year. Hawaii has already had seven of its species on the endangered list. Many pollinating insects including bees are very specific to the type of plants they interact with. Simply placing other types of bees on the plant will not fix the problem.
Since the 1990s, the population has plummeted by 90 percent. President Obama has initially listed the bee for federal protection, which would have taken affect in January of 2017. However, Donald Trump placed a freeze on all environmental actions upon taking office delaying the bee's status. After enormous pushback from environmental groups as well as those within the government, the bumblebee ban was lifted. Being placed on the endangered species list is the first step to protecting this species. It will now be a federal crime to kill or destroy the bees unless in a life threatening situation. Much more needs to be done to stop the use of pesticides, habitat destruction, and climate change to secure the safety of bees. The future of our food depends on it.
Anyone who doubts the importance of bees to human existence need look no further than China where many people have been forced to hand pollinate orchards after a bee extinction.
Comments
comments