Nurse Dragged and Handcuffed by Utah Police for Doing Her Job, Mayor Apologizes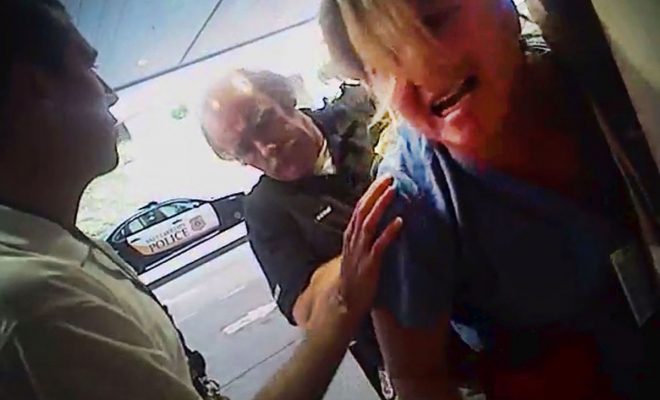 Utah nurse arrested for refusing blood draw#news #Trending pic.twitter.com/qAANjCjiCw

— politicsisfunn (@politicsisfunn) September 2, 2017
Salt Lake City, UT— A video released of a July 26th incident involving Nurse Alex Wubbels and Police Detective Jeff Payne has been seen by millions of people online.  The body camera footage shows Nurse Wubbels calmly telling the officer that she cannot draw blood from a patient unless the individual has been placed under arrest, there is a police warrant, or unless the patient has given consent.  She correctly states and prints out a Supreme Court law that clearly defines when officers can demand blood samples.  She even has a hospital administrator on speaker phone who confirms the same information and tells him not to threaten a nurse.  Detective Payne becomes furious that Nurse Wubbels is refusing his request, grabs her while she screams in fear, drags her outside, and arrests her.  Other officers are seen standing and watching while Wubbels cries out that Payne is hurting her and that she has done nothing wrong.  Other hospital staff try to calm the situation but Payne threatens them then forces Wubbels to sit in an unmarked vehicle parked nearby.
After 20 minutes she was released and not charged with any crime.  Detective Payne along with another unknown officer have been placed on paid administrative leave while an internal investigation takes place and may possibly face criminal charges.  The Mayor of Salt Lake City Jackie Biskupski stated, "What I saw is completely unacceptable to the values of my administration and of the values of the Salt Lake City Police Department.  I extend a personal apology to Ms. Wubbels for what she has been through for simply doing her job."  Police Chief Mike Brown said "I was alarmed by what I saw in the video with our officer."  Nurse Wubbels who is also a former 2-time winter Olympic alpine skier has said that she does not intend to press charges at this time.
The patient in question is William Gray, a semi-truck driver.  He was hit head on by another man being pursued by police in a chase.  That man was killed in the accident but Gray was left burned and unconscious.  He later thanked the nurse and hospital for not unlawfully taking blood while unconscious and respecting his rights.
Comments
comments