Mass Shooting in Texas: At Least 26 Dead Along with Gunman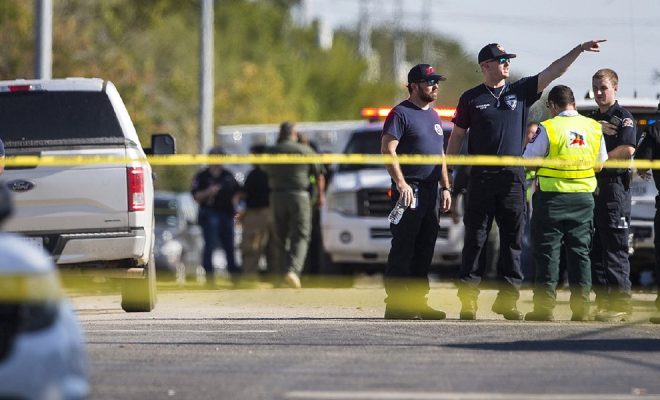 Around 11:30 am this morning in the small town of Sutherland Springs, Texas, 26-year-old Devin Patrick Kelley entered the First Baptist Church and opened fire during Sunday service.  In what is being described as the worst massacre in a place of worship in American history, Kelley murdered 26 people ranging in age from 5 to 72.  An additional 20 individuals were wounded and taken for treatment at nearby hospitals.
Sutherland Springs is located in Wilson County, Texas approximately 30 miles from San Antonio.  According to local authorities, Kelley used a Ruger AR assault rifle.  Department of Public Safety regional director Freeman Martin says the alleged shooter was dressed in black, wearing tactical gear and a ballistic vest.  At one point Kelley was confronted by a local citizen.  He then dropped his rifle and fled while the individual chased after him.  Kelley apparently ran his vehicle off the road and was later found dead inside.  It is unclear if he was shot by a someone or if he took his own life.  The exact circumstances of his death are not yet known.  Additional weapons were found inside his vehicle.
Devin Patrick Kelley was married and held a residence in New Braunfels, a suburb of San Antonio.  According to his LinkedIn account, Kelley served in the U.S. Air Force right after high school in 2009 until 2013.  After his service he briefly taught at a summer Bible school.  A week ago, he posted a photo on Facebook of his semi-automatic rifle and wrote the caption, "She's a bad bitch."
Among the victims was the 14-year old daughter of the church Pastor, Frank Pomeroy.  Four members of the same family were shot including a 7 and 5-year-old.  A six-year-old boy is currently in the hospital after being shot 4 times.
"There are no words to describe the pure evil that we witnessed in Sutherland Springs today," said Texas Governor, Greg Abbott.
President Donald Trump who is currently on a 12-day trip through Asia tweeted from Japan, "May God be w/ the people of Sutherland Springs, Texas."