MA1 Fitness Studio: Getting Trained by the Best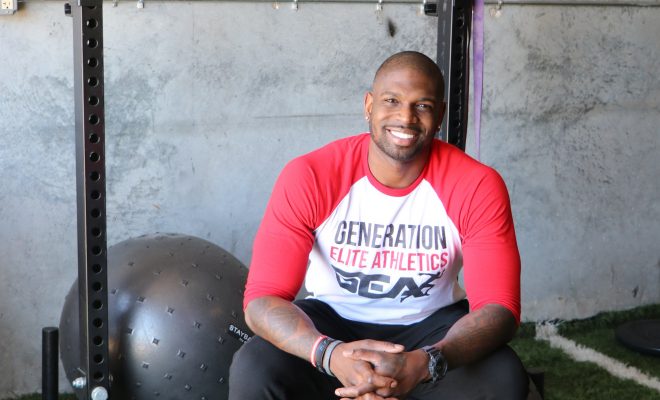 Walking into MA1 Fitness, you're immediately taken by surprise.  It wasn't like any other gym I've seen before.  There aren't a bunch of machines crowded everywhere with pushy sales people and mountains of protein powder.  What you do find is specialized equipment arranged in a way that almost feels like you're at home.  One of the owners, Jonathan Holland, definitely knows a thing or two about fitness.  He was a wide receiver for the Oakland Raiders and has been an all around athlete his entire life. He could be an intimidating guy (his muscles enter the room before he does) but his warm personality and big smile makes you feel comfortable right away.  He loves to pass on everything he's learned in his career to athletes of all ages and fitness levels.  "One of the most gratifying feelings as a coach is seeing your countless hours of research and study manifest itself through someone else's hard work, dedication, and 100% trust in your plan," says Holland.  His fellow owners, Lamar Vaughn, Don Singleton, and Anthony James are also passionate about sharing their vast knowledge and experience.  Vaughn recently took first place in Men's Physique at the 2017 John Kemper Classic.
A big part of MA1 Fitness is to educate people on how to continue their hard work independently.  Instead of only being able to train in the space, they literally have the workout equipment in stock for people to buy and take home.  You get the benefit of having world-class professionals train you on the same gear you have in your garage or living room.  This helps prevent incorrect use and form that could lead to injury.  They have a versatile approach to each individual rather than a standard curriculum that a lot of corporate gyms stick to.  In addition to his experience in the NFL, Holland also has extensive education in nutrition and wellness.  He and the MA1 Co-owners are part of a group called Generation Elite Athletics that includes coaches and top trainers who actually work out together in the facility.
All the trainers at MA1 believe that while being in top physical condition can tone, tighten, and create that nice shape, working out is much more about living a healthy and balanced life.  Their core values are all about family, friendship, and experiencing the joy of reaching your goals.  A sign in the changing room says, "I'm not going to tell you it's going to be easy, I'm telling you it's going to be worth it."  Whether you're already a pro athlete, training for a fitness competition, rebuilding your body after injury, or just starting out, MA1 has you covered.
Take a look for yourself and follow them on social media @generationeliteathletics and like them on Facebook!