LIVE VIDEO: Dylann Storm Roof Is Named Suspect Of Charleston Church Shooting #Charleston #DylannStormRoof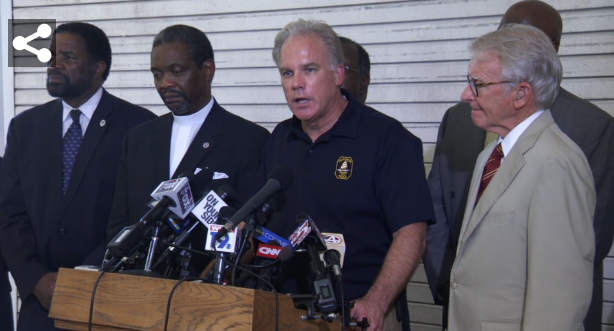 An intense manhunt was under way Thursday for a young white man who joined a prayer meeting and then opened fire inside a historic black church in downtown Charleston, killing nine people, including the pastor, in what authorities called a hate crime.
Charleston Police identified the suspect as Dylann Storm Roof, 21, of Lexington, S.C.
Dylann Storm Roof, 21, has been identified as the suspect in the shooting at a Charleston, S.C., black church that left nine people dead. The flags on his jacket are from apartheid-era South Africa (top) and Rhodesia, which is now known as Zimbabwe. (Facebook)
Reuters reported that Carson Cowles, the uncle of Dylann Roof, said he recognized his nephew from photos released by police. Roof also received a .45-calibre pistol from his father as a birthday present in April, Cowles said.
Roof was charged earlier this year for a drug offence and trespassing, Reuters reported, citing court documents.
"This is a very dangerous individual," Police Chief Greg Mullen said.
The suspect stayed for nearly an hour at the prayer meeting Wednesday night before shooting the victims — six females and three males, Mullen said.
Mullen did not give other details and said names would be released after families were notified.
But Todd Rutherford, a state legislator, told The Associated Press that the Emanuel AME Church's pastor, state Senator Clementa Pinckney, was among those killed.
Rev. Clementa Pinckney, who is also a South Carolina state senator, was among the nine people killed Wednesday night in a shooting at Emanuel AME Church in Charleston, S.C. (Emanuel African Methodist Episcopal Church)
Pinckney, 41, was a married father of two who was elected to the state House of Representatives at age 23, making him the youngest member of the House at the time.
"He never had anything bad to say about anybody, even when I thought he should," Rutherford said. "He was always out doing work either for his parishioners or his constituents. He touched everybody."
Sylvia Johnson, a cousin of Pinckney, said she spoke with one of the survivors of the shooting.
"From my understanding, the suspect came to the church and he asked for the pastor…He sat next to my cousin, Reverend Clement Pinckney, throughout the entire bible study," Johnson said.
"At the conclusion of the bible study, from what I understand, [the survivors] just started hearing loud noises just ringing out," she said. "The suspect had already wounded a couple of individuals, including my cousin."
Read more: http://www.cbc.ca/news/world/dylann-storm-roof-sought-by-police-after-charleston-black-church-shooting-kills-9-1.3118131
Comments
comments