FACEBOOK MURDER SUSPECT KILLED HIMSELF IN PENNSYLVANIA AFTER CHASE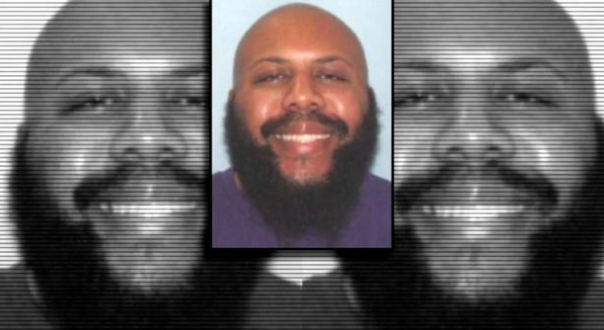 BREAKING: Pennsylvania State Police say the suspect in the random killing of a Cleveland retiree posted on Facebook has shot and killed himself after a brief pursuit.
State police say Steve Stephens was spotted Tuesday morning by state police in Erie County, in the state's northwest corner. Authorities say police tried to pull Stephens over and, after a brief pursuit, he shot and killed himself.
In Cleveland, Ohio on Easter Sunday, 37-year-old Steve Stephens gunned down an elderly man chosen seemingly at random.  He posted the murder on Facebook and was since a fugitive from police.  Both local authorities as well as the FBI were involved in tracking him down.  In one video Stephens made the claim to have killed as many as 13 additional people, but that has not been verified.
The victim, 74-year-old Robert Goodwin, Sr. was a grandfather and father of nine.  His family is horrified that the shooting was posted for millions of viewers to see and share.  Facebook executives are facing major backlash for waiting hours before taking the video down.  Facebook has been a platform in the past to share shocking videos such as the live stream to a private group of three Swedish men gang raping a woman.
Goodwin's son, Robby Miller stated, "What happened to my father was horrific.  I wouldn't wish that on anybody.  The man who videotaped my father getting shot stripped him of his dignity.  And to post it online for the whole world to see?  I'm just angry."  He went on to say that he and his family are not seeking revenge and that they forgive Stephens.  "No, I don't want that man to die, I want him brought to justice," he said.  "One thing I do want to say, is that I forgive (the killer)."
Joy Lane, the girlfriend of Stephens was named in the video as the motive behind the shooting.   The dialogue is as follows:
Stephens: "Can you do me a favor? Can you say Joy Lane?'
Goodwin: "Joy Lane."
Stephens: "Yeah, she's the reason why all this about to happen to you. How old are you?"
The timeline of events took place as such:
Murder Posted on 11:09 a.m. PDT — First video, of intent to murder, uploaded. Not reported to Facebook.
11:11 a.m. PDT — Second video, of shooting, uploaded.
11:22 a.m. PDT — Suspect confesses to murder while using Live, is live for 5 minutes.
11:27 a.m. PDT — Live ends, and Live video is first reported shortly after.
12:59 p.m. PDT — Video of shooting is first reported.
Tweets about "Steve Stephens"

Comments
comments