Emmett Till Memorial Vandalized for the Second Time in Mississippi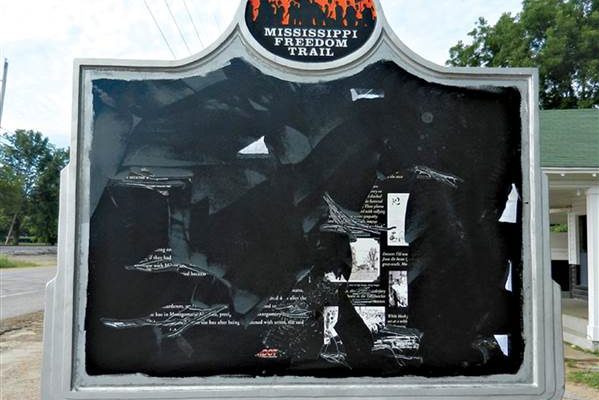 A memorial commemorating the life and lynching of Emmett Till was found defaced and vandalized in Money, Mississippi. The vinyl panels containing words and pictures were peeled off and a blunt tool was used make scratch marks throughout.
Emmett Till was a 14-year-old African American boy from Chicago visiting relatives in Mississippi in 1955. After a white woman made allegations that Till sexually harassed her at a grocery store, two men kidnapped him and beat him to death. They dumped his tortured and mutilated body in the Tallahatchi River and weighed it down with a stolen fan from a cotton gin. His body later surfaced and was found with a dislodged eyeball and numerous broken bones. He had also been shot. He was unrecognizable and was identified by a relative as well as by a ring on his finger. Till's mother, Maimi insisted that her son have an open casket funeral so the world could see how her son was brutalized. The lynching was widely covered by the media and was a major catalyst for the Civil Rights Movement.
The two men responsible, J.W. Milam and Roy Bryant stood trial before an all-white, all-male jury and were acquitted. Bryant was the husband of the woman who accused Till of harassing her. Later, in an interview that both men profited from to Look magazine, they admitted to killing Till but were protected by Double Jeopardy laws.
"Well, what else could we do? He was hopeless. I'm no bully; I never hurt a nigger in my life. I like niggers—in there place—I know how to work 'em. But I just decided it was time a few people got put on notice. As long as I live and can do anything about it, niggers are gonna stay in their place. Niggers ain't gonna vote where I live. If they did, they'd control the government. They ain't gonna go to school with my kids. And when a nigger gets close to mentioning sex with a white woman, he tired o' livin'. I'm likely to kill him. Me and my folks fought for this country, and we got some rights. I stood there in that shed and listened to that nigger throw poison at me, and I just made up my mind. 'Chicago boy,' I said, 'I'm tired of 'em sending your kind down here to stir up trouble. Goddam you, I'm going to make and example of you—just so everybody can know how me and my folks stand."   — J.W. Milam for Look magazine.
In January 2017, the woman at the center of the story, Carolyn Bryant, the accuser recanted her story to a Duke Professor during an interview after decades of silence. She admitted that she had lied about large portions of her encounter with Till.
The memorial stands outside of the Bryant grocery store where the chain of events began. It had been previously damaged in October 2016 when bullet holes were found all over it. However, many young people see the world much differently than generations of the past. Students of all races gathered today to write messages of hope on the memorial.