Brooklyn teen arrested after alleged Emoji threats #Emoji #Brooklyn #OsirisAristy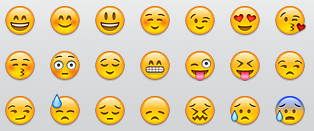 Emojis are words too.
Indeed, some might see them as a very modern, exalted form of digital cursive script.
That seems to be the view of the New York Police Department, after it viewed the Facebook page of 17-year-old Osiris Aristy from Bushwick, Brooklyn.
Aristy posted images of himself with guns and words such as: "feel like katxhin a body right now."
However, as DNAInfo reports, he also posted images of little gun emojis pointing at little emoji heads of police officers.
Despite his young age, Aristy apparently has something of a police record, with 12 arrests, according to DNAInfo, for alleged offenses including criminal possession of a weapon, robbery and assault.
His Facebook page was, it seems, part of routine police surveillance. When the emojis and other messages were spotted, Aristy became an arrestee. And among the charges is making terrorist threats, according to DNAInfo. The publication goes on to say that the criminal complaint offers this: "As a result of this conduct, the defendant has caused the informant and other New York City police officers to fear for their safety, for public safety, and to suffer alarm and annoyance."
Inspector Maximo Tolentino of the 83rd Precinct told DNAInfo: "You make a threat on the internet, we're going to be watching."
I have contacted the 83rd Precinct seeking comment and will update, should I hear.
Read more source: https://www.yahoo.com/tech/the-facebook-page-of-osiris-aristy-accused-of-109205096519.html
Comments
comments