Betsy DeVos Removes Obama Rules on Campus Sexual Assault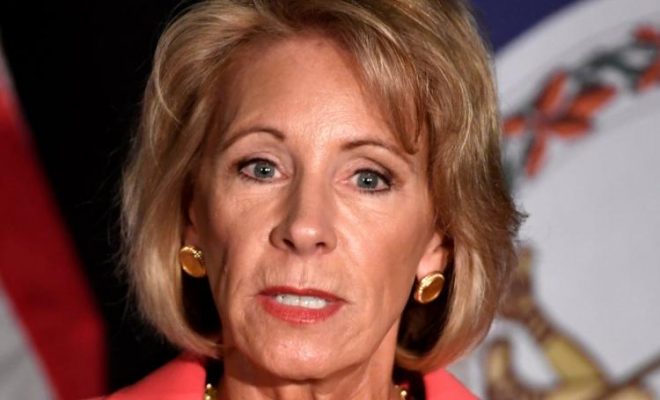 Secretary of Education, Betsy DeVos spoke at the Antonin Scalia Law School at George Mason University in early September.  She announced that the Department of Education intends to change how it handles sexual assault and harassment allegations at colleges, universities, and K-12 schools.   She stated, "The truth is that the system established by the prior administration has failed too many students."  While repeating that sexual misconduct is reprehensible, she emphasized the rights of the accused and referred to them as "victims of a lack of due process."  DeVos called for balance but many people believe this sends the wrong message to those afraid to step forward to report their experiences.
Title IX is a 1972 law that simply states that no person can be discriminated on the basis of sex in any education program or activity that receives federal funding.  Originally this provision was geared toward allowing women to participate in sports and receive athletic scholarships.  However, Supreme Court rulings in 1992 and 1998 extended the interpretation to include sexual harassment and misconduct.
Statistically 11.2% of all graduate and undergraduate students experience rape or sexual assault through physical force, violence or incapacitation.  In response, in 2011 and 2014, President Obama issued guidelines largely based on existing Title IX precedent.  The guidelines were designed to protect victims of assault including a guarantee that they could not be denied the right to an education.  It held schools accountable for assaults that take place on campus by withholding funding if complaints were ignored.  Congressional Republicans fiercely opposed the President at the time calling it an overreach and a threat to the due process rights of the accused students.  However, due process is a part of the criminal process and not a requirement for public schools.  By the time a criminal proceeding or trial reaches completion, a victimized student may already graduate from school while having to potentially share classes with his or her attacker.  Under the previous guidelines, the accused student does not receive a criminal record, but may be expelled or have to finish classes off campus.  Some argue that if plagiarism on term papers can get a student expelled because of breaking a code of conduct, so should sexual assault.  There are no jury panels for an accusation of cheating even though it holds the same consequences.
DeVos calls for a higher standard of evidence closer to a criminal court requirement of "beyond a reasonable doubt" despite no requirements for legal counsel.  Victims would be placed in a situation they may not know how to argue especially after a trauma.  As a result, students across the United States have expressed outrage towards DeVos and staged protests in response to her initiative.  In addition, multiple women, an advocacy group, and several state attorneys general have all filed suit against her as well as the Department of Education.
The Brock Turner rape case shed light on the fears that many women have when coming forward.  The fears that they will have to endure enormous public scrutiny on their personal lives with little justice in the end.  The judge in the Turner case, Santa Clara County Superior Court Judge Aaron Persky said, "A prison sentence would have a severe impact on him."  Turner's father said that his son's life should not be ruined "for 20 minutes of action."  More recently, the numerous claims of sexual assault, harassment, and retaliation regarding Harvey Weinstein have sparked worldwide conversations about treatment of women in all areas of their lives.
Comments
comments