Astros Beat Yankees 4-0 in Game 7, Reach World Series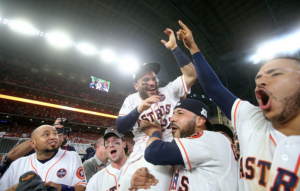 Just four years removed from their third straight 100-loss season in 2013, the Astros shut down the Yankees for two straight games after dropping three in a row in the Bronx.
Next up for the Astros: Game 1 of the World Series against the Los Angeles Dodgers on Tuesday night. Houston aces Dallas Keuchel and ALCS MVP Justin Verlander will have plenty of rest, too, before the matchup begins at Dodger Stadium.
Houston has never won even a single World Series game. The only previous time the Astros made it this far, they were a National League team when they were swept by the Chicago White Sox in 2005.
Source: Astros Beat Yankees 4-0 in Game 7, Reach World Series – NBC 5 Dallas-Fort Worth http://www.nbcdfw.com/news/sports/Astros-Beat-Yankees-4-0-in-Game-7-Reach-World-Series-452194903.html#ixzz4wCqgOYZM
Comments
comments