Anthony Scaramucci YOU'RE FIRED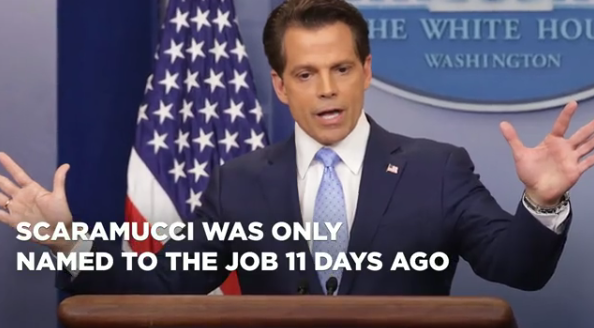 John Kelly thought the White House communications director lacked discipline
In the latest shake-up inside President Trump's volatile White House, communications director Anthony Scaramucci has been removed from his post just 11 days after landing in the West Wing.
"Anthony Scaramucci will be leaving his role as White House communications director," said White House press secretary Sarah Huckabee Sanders in a statement Monday. "Mr. Scaramucci felt it was best to give chief of staff John Kelly a clean slate and the ability to build his own team. We wish him all the best."
Kelly was officially sworn in as Trump's chief of staff Monday morning, following the sudden departure of former chief of staff Reince Priebus on Friday.
At her daily press briefing Monday afternoon, Sanders confirmed that Scaramucci is no longer serving the administration in any capacity, despite earlier reports that he may assume an alternate post.
"He does not have a role at this time in the Trump administration," she said.
Sanders told reporters that Kelly "will bring new structure to the White House, and discipline, and strength" and that the retired general "has the full authority to carry out business as he sees fit.
Comments
comments