Why would "YOU" not attend the Oscars?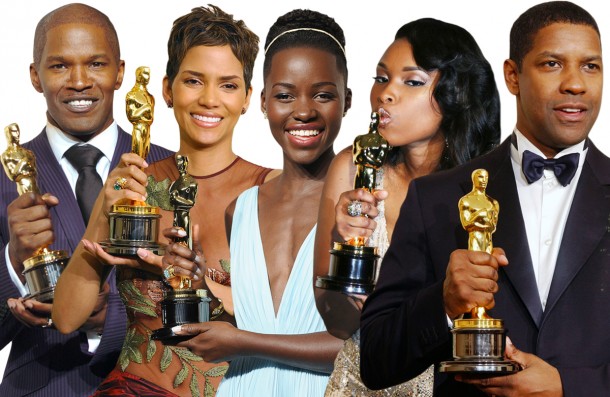 My diverse family heritage (Jamaican, Native American, French, Irish) as well as a Multi-cultured religious background (Mother-Christian, Father-Muslim) gives me a unique insight into racial issues.  So I do not take offense easily, except when It just does not rationally and logically makes sense.
"Blacks" say they have never been nominated or won an award unless they were give the role as a slave. But that is not completely true.  African Americans have been nominated and taken home an Oscar many times.   
–1939, Hattie McDaniel; Gone with the Wind,  1948, Ethel Waters; Pinky, 1959, Juanita Moore; Imitation of life, 1963, Sydney Poitier; Lilies of the Field, 1972, Diana Ross; Lady sings the Blues,  1989, Denzel Washington; Glory, 1990, Whoopi Goldberg; Ghost, 2002, Queen Latifah; Chicago
and these are just a few examples of how the African American Community has impacted the Oscars
"I won once, so it can't be that racist.  I've been black the whole time."  says, Whoopi Goldberg on an episode of The View
There are plenty of Latin American, Caucasian, Pilipino, Oriental, etc.. actors and actresses who have worked in the industry their whole lives and have never received an Oscar.
One of the most iconic love stories to date is Titanic.  Leonardo Dicaprio, the star of "Titanic" is "white" and has been acting his whole life and has never received an Oscar.
According to

backstage.com

, these are just a few who have never won an Oscar.  Bill Murray, Brad Pitt, Siqourney Weaver, Robert Downey Jr., Michelle Pfeiffer, Tom Cruise, Johnny Depp,  Bruce Willis, Glenn Close, Edward Norton; just to name a few.
Support your colleagues, create change, Do something, or get a hobby.
-Princess Liyah
Comments
comments