9 people found dead in a trailer parked by Walmart
A phone call from a Walmart employee early Sunday morning lead to a discovery of dozens of undocumented immigrants in the back of a tractor-trailer in San Antonio, Texas.
US Immigration and Customs Enforcement acting Director Thomas Homan reported that over 100 undocumented immigrants may have been crammed in the back of the 18-wheeler during the journey, as cited by survivors in initial interviews.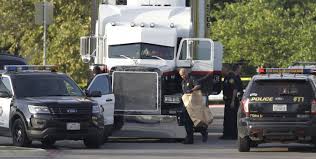 The employee told authorities that the trailer was parked at a Walmart in the area. A man that was in it asked the employee for water.
When the employee returned with water, the police were then called and were requested to conduct a welfare check, San Antonio Police Chief William McManus said.
"Checking the video from the store, we found there were a number of vehicles that came in and picked up a lot of the folks that were in that trailer that survived the trip," San Antonio Police Chief William McManus said. "We are looking at a human trafficking crime here."
The authorities arrived and uncovered eight bodies and 31 passengers suffering with multifarious injuries. A ninth victim later passed at the hospital, ICE officials said.
"We quickly called a 'mass casualty incident' and had about 29 units arrive out there and start transporting people," San Antonio Fire Chief Charles Hood said.
Officials said that the air conditioning was not working and temperatures reached up to 100 degrees on Saturday, causing the victims to suffer " heat strokes or heat injuries, [and] a lot of them are going to have some irreversible brain damage."
"Unfortunately, some of them were severely overheated, and that was a refrigerated truck with no refrigeration," Hood said. "So the inside of the truck was just austere condition that nobody was going to survive in it. So we were very fortunate that they were found."
Authorities are reviewing footage as they attempt to learn where the trailer is from.
Police have also been inspecting the area with helicopters after some people ran into the woods.
The US Attorney's Office said the driver, James Matthew Bradley Jr., 60, of Clearwater, Florida, was being held in connection with the incident. Prosecutors plan to file a criminal complaint against Bradley in federal court on Monday morning.
"Fortunately, we came across this one and fortunately there are people who survived but this happens all the time," McManus said. "You can see that it happens late at night under darkness because they don't want to be discovered."
The police chief said once the victims receive treatment, the case will be turned over to the US Immigration and Customs Enforcement.
US Rep. Lloyd Doggett, a Democrat who represents parts of San Antonio, called for reform.
"Horrific scene overnight in San Antonio where a human smuggling attempt turned deadly," Doggett tweeted. "Prosecute smugglers, pray for survivors and the victims' families, stop the hysteria, reform our broken immigration system."
During this time, Walmart has declined to issue details on what happened.
"(T)his is an ongoing law enforcement investigation. We are cooperating fully with the authorities but will not be providing interviews or footage to media," Barr told CNN in an email.
Barr is also refusing to disclose the name of the employee who contacted the police to orchestrate the welfare check.
Comments
comments