20 Things To Do When Its Cold Outside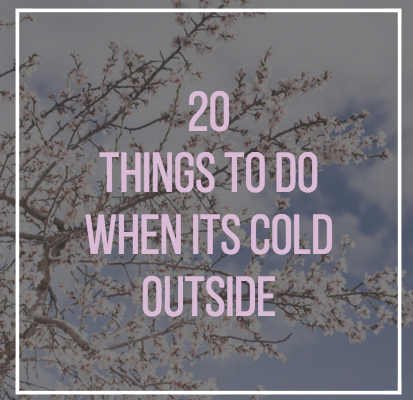 Days when it is very cold outside can sometimes seem unexciting, making you feel depressed. You cannot change the weather; however you can find activities to do that will help dispel the gloominess. Presented below are 50 things to do when its cold outside.
1. Redecorate your room or home. New curtains or a fresh paint coat can dramatically alter a room and give you a new outlook.
2. Do online shopping. This is an extremely easy way to buy the thing you need without having to wear a coat, boots, scarf, hat, and gloves and your items will be delivered to your doorstep.
3. Cuddle. If you have no need to go outside, you can cuddle with a loved one, a friend, or a pet. If you cannot find a partner, you can cuddle with yourself.
4. Clean out your drawers and closets. While doing this, watch out for creatures such as spiders to avoid getting bitten.
5. Write a book. Your life has been quite eventful so why not pen it down for members of your household to enjoy.
6. Read an interesting book to your child or children. This is a good way to spend quality time with your kids.
7. Start a home work out program. You will find several do-it-yourself motivation and exercise programs on the internet.
8. Watch a movie. Pick something interesting and watch it curled up under a blanket.
9. Learn a foreign language. There are several websites on the internet that can help you learn a foreign language.
10. Finish a craft undertaking. If you have been working on a craft project for some time now, this is a good time to complete it.
11. Make a fire inside your home. If you possess a fire place, build a fire to warm and relax yourself.
12. Take a nap. One great thing you can do when it is really cold outside is to wrap yourself within a blanket and take a pleasant nap.
13. Play Family Games. You probably have several board games lying around your house. Pull one or two out and have fun with your family.
14. View Old family pictures. View pictures of your children, nephews, and nieces or pictures of your parents when they were growing up.
15. Drink Hot Chocolate. A warm treat is what you need on very cold day, and  hot chocolate is just what you need. Try Cadbury and Nestle brands.
16. Have a hearty breakfast. If you are a breakfast person, eat a good breakfast that will keep you warm, after all it is freezing cold outside.
17. Play monopoly or scrabble with your partner or kids. It is a great way to kill time.
18. Batch Cooking. Cooking is a tedious task, so why not get it done on a cold Saturday or Sunday.
19. Start a crochet or knitting project.
20. Do the laundry. If you live with other people, there is always laundry that requires tending to.
Source:http://www.danielbranch.com/50-things-to-do-when-its-cold-outside/