2 DEAD, 2 OTHERS INJURED IN POSSIBLE MURDER-SUICIDE AT ELEMENTARY SCHOOL – Breaking News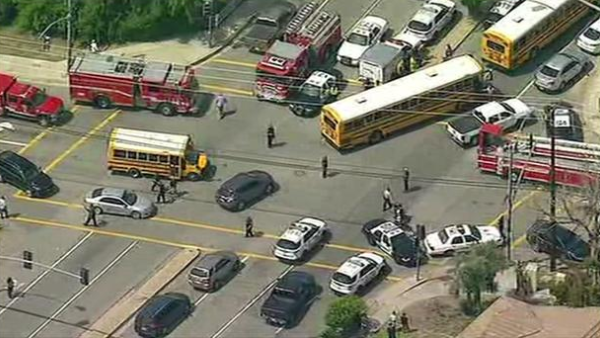 SAN BERNARDINO, California — At least two adults are dead and two possible students injured in a shooting at an elementary school in San Bernardino, according to San Bernardino police.  One of the adults is a teacher.  The injured students were rushed to a nearby hospital and their conditions are currently unknown.
San Bernardino Police Chief Jarrod Burguan said on Twitter, "Two adults are deceased in a classroom, believed to be a murder-suicide."  He also stated that, "We believe the suspect is down and there's no further threat."
At approximately 10:30 am gunfire was reported at North Park Elementary School.  The school holds over 500 students ranging from Kindergarten through 6th grade.  The students were then ushered outside while their parents desperately waited to pick them up.  The name of the suspect has not yet been released but police officers believe the shooting was motivated by a domestic violence issue.
Comments
comments