Africans Sold at Slave Auction in Libya – Video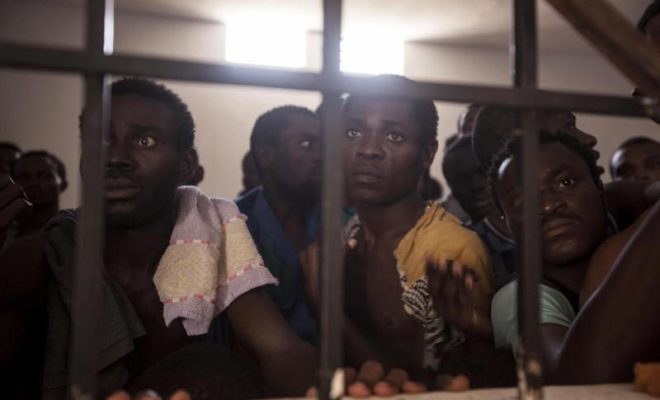 CNN has released footage of an open-air slave auction in Libya where young black Africans are being sold as slaves to bidding participants. The price can be as low as a few hundred dollars for a human being. One man is heard saying "big strong boys for farm work" and soon after bidding begins.
Ever since the death of former leader, Muammar Gaddafi, Libya has had been in major political turmoil as different groups compete to control the government. As a result human smugglers have been able to get away with numerous human rights abuses. Refugees fleeing other parts of the region and throughout Africa are promised safe passage to Europe but are instead trafficked to Libya. Many of these people are tortured and murdered along the way. Bodies have been dumped throughout the desert with no identification. Those who do make it into Libya are then sold into forced labor or prostitution.
"As shocking as it seems, it's indeed true. The reason [the slave trade] can happen is because there is really no rule of law across much of Libya," Leonard Doyle of the International Organization of Migration.
After the video was released, protests have broken out throughout Europe to pressure the UN, European Union, and other authorities to do something about the situation. However, because Europe has been trying to stop refugees from entering, very little has been done to address the smuggling issue. In fact, Italy had previously given ships and millions of dollars to Libya to stop migrants successfully making it across to Europe. Hundreds of children have drowned in the last year in attempts to cross the dangerous waters in the Mediterranean. At least 3,000 people have died in the past four years.
It is estimated that 400,000 to nearly 1 million migrants may be currently trapped in Libya.  Government detention centers are overflowing and underfunded, and countless migrants have disappeared into a shadow world of criminality and abuse.
Comments
comments