1 dead, 2 critically injured after ride malfunctions
Fairgoers are left horrified after witnessing a ride malfunction at the Ohio State Fair, resulting in 1 death and 7 injured.
The Fire Ball, a structure with at least six rows of seats that spins in the air while moving like a pendulum, fragmented while in motion on Wednesday.
Footage of the event was posted online revealing pieces of the machinery, including a full row of seats, breaking and flying off.
Kaylie Bellomy elaborated on the chaos she experienced while witnessing the tragedy just minutes before she intended to get on.
"Everybody was running. I got ran over trying to get out of the way," she told CNN affiliate WCMH. "I just don't think I'll ever ride a ride ever again."
One of the eyewitnesses, Rhonda Burgess, said her son was waiting in line at a nearby ride when the machine came undone.
"The ride had four riders per cart. This piece snapped off and the riders came out of the cart," she said. "At least two (people) flew through the air at least 20 feet before landing on their backs on the concrete."
Deputies fled to the scene, requesting for fairgoers to back up.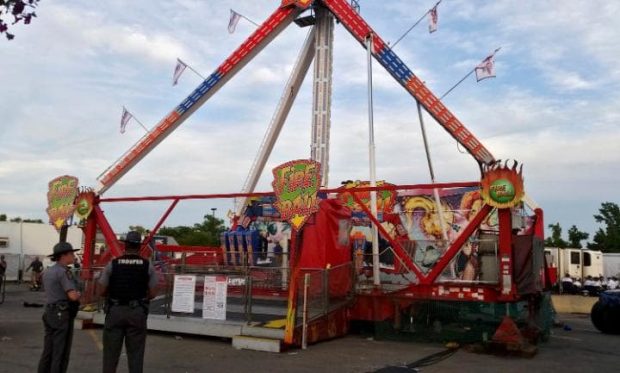 A full investigation was then ordered forcing all fair rides to be shut down amid another round of inspections.
Michael Vartorella, chief ride inspector for Ohio's Division of Amusement Ride Safety says,"It's been looked at about three or four times over the course of two days.It was inspected at a couple of different stages and it was signed off…"
So how does a 40 foot roller coaster spontaneously break apart and injure passengers in the process?
Ohio State Highway Patrol superintendent Col. Paul Pride says investigators are attempting to answer that question by enlisting outside experts to administer an "autopsy" on the ride.
Although the investigation is fresh, officers are keeping into consideration that the incident could be a mere accident.
Gov. John Kasich said the situation was a "nightmare," but noted that "accidents happen."
"You can inspect, and you can reinspect, and you can in this case have a third party inspect," Kasich said. "But if you're looking for guarantees in life, they don't exist. You just make sure that the risk you take on is something that you balance against the activity you want to engage in."
18-year old Tyler Jarrell from Columbus, Ohio was indeed a sad result of this 'accident'. He was pronounced dead on fairgrounds, the Ohio State Highway Patrol said in a statement. 7 others were injured and transported to area hospitals, two of which are in critical condition and one in serious condition.
"Our hearts are heavy for the families of those involved in last night's tragic accident," fair officials said in a statement. "We have shut down all rides until the state has inspected each and every ride again and deemed them to be safe."
Most activities will still be taking place while the investigation proceeds.
Comments
comments